In August 2019, RS RAS has acquired the licensed software "Bernese GPS Software Version 5.2" (Bernese SW) from the Astronomical Institute of the Bern University (AIUB, Switzerland). Bernese SW is a multi-platform program for processing measurement data based on Global Navigation Satellite Systems (GNSS), calculating high-precision coordinate series and velocity vectors. The license for the right to use the Bernese SW includes the possibility of passing a free training for 2 specialists.
Employees of the LGPS - head laboratory Sergei I. Kuzikov and junior researcher Yulia M. Salamatina took a course on Bernese SW installation and using at AIUB (Bern, Switzerland) from January 27 to 31, 2020. http://www.bernese.unibe.ch/course/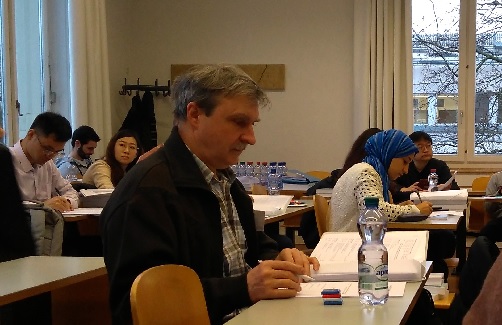 Last Updated on Tuesday, 11 February 2020 11:57
Sixth Youth Tectonophysical School-seminar dedicated to the memory of outstanding soviet scientist Alexei Vladimirovich Lukyanov was held from 7 to 11 October in Moscow at the Institute of the Physics of the Earth O. Yu. Schmidt. The RS RAS young researchers Ksenia Nepeina and Yulia Salamatina presented their reports.
Junior researcher of the Laboratory of Studying Modern Movements of the Earth's Crust by Space Geodesy Yulia Salamatina delivered a report "Evaluation of tidal deformations of the Earth's crust by linear-angular measurement method", where she studied area of Bishkek Geodynamic Polygon. It has a complex combination of structural and kinematic features (faults and movements along with them). The linear relationship between the changes in the distances of area and the series of difference tidal data, allows us to conclude that it is possible to fix the tidal variations of the Earth's crust by means of the linear-angular method, even partially.
Junior researcher of the Laboratory of Deep Magnetotelluric Investigations Kseniya Nepeina delivered a report "Study of deformation processes in the territory of Bishkek Geodynamic Polygon" in accordance with the theme of the IV school-seminar "Application of Tectonophysics in related fields: the relationship of surface processes with the deep structure; geophysical and seismological methods of studying the internal structure of the crust". The study was supported by RFBR grant No. 17-05-00654 (chief Dr. Bataleva E. A.).
11 famous lectures - scientists on various aspects of scientific research in the field of geology, modern geodynamics, Geophysics, geomechanics and tectonophysics: Y. O. Kuzmin; I. Y. Kulakov; V. O. Mikhailov; V. A. Petrov; Y. L. Rebetsky; L. A. Sim; A. A. Khudoley, A. I. Shemenda (France) took part at the Sixth Youth Tectonophysical School-seminar. During this event young scientists from Moscow, St.-Petersburg, Novosibirsk, Tomsk, Perm, Yuzhno-Sakhalinsk, Bishkek presented about 40 reports. Most of reports dealt with the stress state of collision areas, including Tien Shan, and tectonophysical aspects of fracture formation.
Following the School-seminar, the Book of materials "Modern Tectonophysics. Methods and results" / Materials of the sixth youth tectonophysical school-seminar. - Moscow: IFZ, 2019. – 268 p. was published.
http://www.ifz.ru/fileadmin/user_upload/subdivisions/506/Konferencii/2019/TShS2019.pdf
Last Updated on Wednesday, 30 October 2019 08:13