PROBLEMS OF GEODYNAMICS AND GEOECOLOGY OF INTRACONTINENTAL OROGENS
The VIII International Symposium dedicated to Year of Russia in Kyrgyzstan 22-26, June, 2020
Bishkek city, Kyrgyzstan
Due to tough situation associated with the danger of COVID-19 dissemination,

the Organizing Committee of VIII International Symposium "PROBLEMS OF GEODYNAMICS AND GEOECOLOGY OF INTRACONTINENTAL OROGENS" has decided to delay Symposium till things go better.
Already sent materials (abstracts and expanded thesis)

will not be published this year.
We present our apologies for this situation! Take care of yourself!
Organizing Committee of VIII International Symposium
Last Updated on Friday, 20 March 2020 09:08
In August 2019, RS RAS has acquired the licensed software "Bernese GPS Software Version 5.2" (Bernese SW) from the Astronomical Institute of the Bern University (AIUB, Switzerland). Bernese SW is a multi-platform program for processing measurement data based on Global Navigation Satellite Systems (GNSS), calculating high-precision coordinate series and velocity vectors. The license for the right to use the Bernese SW includes the possibility of passing a free training for 2 specialists.
Employees of the LGPS - head laboratory Sergei I. Kuzikov and junior researcher Yulia M. Salamatina took a course on Bernese SW installation and using at AIUB (Bern, Switzerland) from January 27 to 31, 2020. http://www.bernese.unibe.ch/course/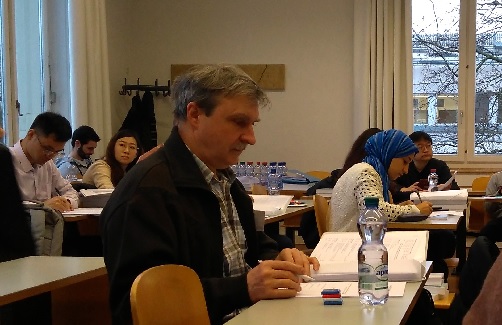 Last Updated on Tuesday, 11 February 2020 11:57