In August 2019, RS RAS has acquired the licensed software "Bernese GPS Software Version 5.2" (Bernese SW) from the Astronomical Institute of the Bern University (AIUB, Switzerland). Bernese SW is a multi-platform program for processing measurement data based on Global Navigation Satellite Systems (GNSS), calculating high-precision coordinate series and velocity vectors. The license for the right to use the Bernese SW includes the possibility of passing a free training for 2 specialists.
Employees of the LGPS - head laboratory Sergei I. Kuzikov and junior researcher Yulia M. Salamatina took a course on Bernese SW installation and using at AIUB (Bern, Switzerland) from January 27 to 31, 2020. http://www.bernese.unibe.ch/course/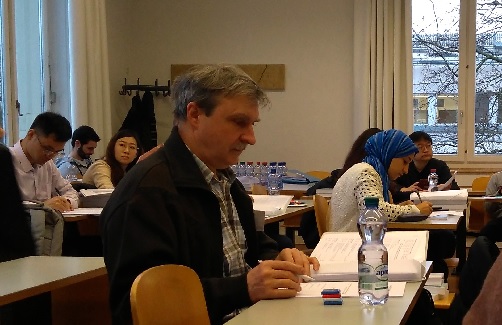 The organizers provided a large amount of training material and Bernese SW manual and tutorial to each course participant.
The intensive course program covered:
• software installation on Windows / Unix;
• overview of the interface and data structure;
• ambiguity resolution for the troposphere / ionosphere parameters;
• solving uncertainty in GLONASS;
• clocks of satellites and receivers modeling ;
• automatic data processing.
To consolidate the lecture material, participants of the course spent 2-3 hours a day practicing at the terminal session.
AIUB staff provided an opportunity to visit the Laser Observatory in Zimmerwald area. Where it was told about telescopes and Optical Observations of space debris, asteroids, and comets, Satellite Laser Ranging (GPS, GLONASS, Galileo, etc.).
Participants were awarded certificates at the end of the course: